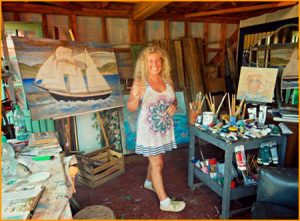 ELINA DAMIANI- (1953) URUGUAY
She's born on April 11th, 1953 in Montevideo. URUGUAY
Her studies- Primary and Secondary studies at "Sacré Coeur" Bachellor in Medicine.Francisco Bauzá School. "Lower Cambridge Cerificate" ANGLO Institute." Diplôme Supérieur de Culture Française. Alliance Française.
She made several works as a team coordinated by the French Embassy about teacher training "Vers une Pédagogie Moderne" (publication).
For 12 years she worked at "The Uruguayan Labour University"; by 1984, from the beginning she paints old furniture and blackboards very "naïf" if you like!,as a self-taught artist.
Her paintings travel around the world: Germany (Hamburg, Sylt Kampeu Islands), France, Italy , England, México, U.S.A. (Miami, The Hamptons) ,Argentine, Brasil, Chile. An Elina Damiani's painting is a "must" today in La Barra, José Ignacio y Punta del Este. You can also command a pet-portrait! She would enjoy it!
Oil or acrylic,on ancient wood…as a real touch of mind!… Her subjects are: the sea, sailboats, sea-birds, native animals, that remind her childhood (up to 10 years old) in a lactery at Parada URIOSTE (Florida) where she lived with her parents,sister and brothers. She's got three sons, Diego, Andrés and Pablo. She lives at Barra de Maldonado. "Los Silencios y Ruta 10 (km 160) Phone * 598-42-772103 e-mail: info@elinadamiani.com
PERSONAL EXHIBITIONS
– " TABLAS Y PIZARRAS" Sacramento resto-pub . Montevideo URUGUAY
– Restaurant PANINI S . Montevideo URUGUAY
– GALLERY NIGHTS PUNTA DEL ESTE 2004/2007. Maldonado URUGUAY
– SALON DE VINO 2008- 2009 CONRAD Bodega CATENA ZAPATA Maldonado URUGUAY
COLLECTIVE EXHIBITIONS
– SALON DE PINTURA MARITIMA 1996 CLUB NAVAL -MENCION- Montevideo URUGUAY
– CLUB DE BALLENEROS – Punta Ballena Maldonado URUGUAY
– "PINTORES DEL PRADO" Círculo de Tennis – Montevideo URUGUAY
– HOTEL LAS DUNAS – La Barra Maldonado URUGUAY
– CASA COR Punta del Este Maldonado URUGUAY
– Fundación BAZAAR – Buenos Aires ARGENTINA
– II Exposición Internacional de Arte Naif Abril 2014 – BCM.ART GALLERY- Barcelona ESPAÑA
– 2º Expo "ART SENSE FRONTERES 17 I MIG ARTISTES" Junio 2014 L G Estilistes – Barcelona ESPAÑA
– "DIAS DE ARTE Y VINO EN BARCELONA" Junio 2014 VINOTECA Carrer Estruc -Barcelona ESPAÑA
– Exposition Internacionale de Peinture "AUTOUR DU BLEU" organisée par l asociation française " UN MONDE D ARTISTES" & PUNT CREATIU Junio 2014- Barcelona ESPAÑA
– Mostra Internazinale di Arte Naif Città di Gualdo Tadino III edizione Agosto 2014- ITALIA
– Arte Internacional Naif C.T Art Gallery Agosto 2014- Reus Tarragona ESPAÑA
– Prima Mostra Collettiva di Artisti Internazionale – "STORIA, ARTE,CULTURA…tutte le strade portano a Roma"–Atelier Ballarati- Setiembre 2014 –Roma ITALIA
– " BONJOUR PARIS" Galérie Artes Noviembre 2014- org "Promociona tu arte"-París FRANCIA
– "EL VIATGE" Centre Civic Barceloneta Org.Expos Internacionals Art Sense Fronteres- Noviembre 2014- Barcelona ESPAÑA
– Expo MONZON Diciembre 2014 ESPAÑA
– "BONJOUR PARIS A MADRID" org "Promociona tu arte" FORO DE CREADORES. Diciembre 2014- Madrid ESPAÑA
– III Exposición Internacional de Arte Naif. Mayo 2015 .BCM Art Gallery. Barcelona. ESPAÑA
– "NAIVE KUNST im QUADRAT" Mayo 2015. Gallerie Gutman Art. Berlin ALEMANIA
– ARTE INTERNACOINAL NAIF – C.T.ART Gallery – Julio 2015. Reus. Tarragona. ESPAÑA
– "I PITTORI DAL CUORE SACRO" da Ivan Rabuzin a Bonaria Manca. A cura di VITTORIO SGARBI. Agosto 2015. Chiesa Monumentale di San Francesco. Città di Gualdo Tadino. Perugia. ITALIA
– LG Estilistes. ASF.Septiembre 2015. Barcelona. ESPAÑA
– 2a. Expo – Dias de Arte y Vino en Barcelona. Septiembre 2015. Sol de Nit. barcelona. ESPAÑA
– Expo – Concurs "AIGUA". A cura de Magnolito Priego y Susana Mayoral. Diciembre 2015. Centre Civic Barceloneta. Barcelona. ESPAÑA
– STUDIO- LABORATORIO a Genova. Salita San Nicolosio 8. ITALIA
– Exposición permanente en su casa – taller en URUGUAY
– GALLERY PUNTA 2016 – Punta del Este, Uruguay
– IV Exposición Internacional de Arte Naif. Abril 2016. BCM Art Gallery.Barcelona. ESPAÑA
– L'ATENEU. Pintors llatinoamericans + col . legues. Abril 2016.Barcelona.ESPAÑA
– IV Edizione Mostra Internazionale di Arte Naif. Città di Gualdo Tadino. Museo Civico Rocca Flea. Abril 2016. A cura di Catia Monacelli. Perugia. ITALIA